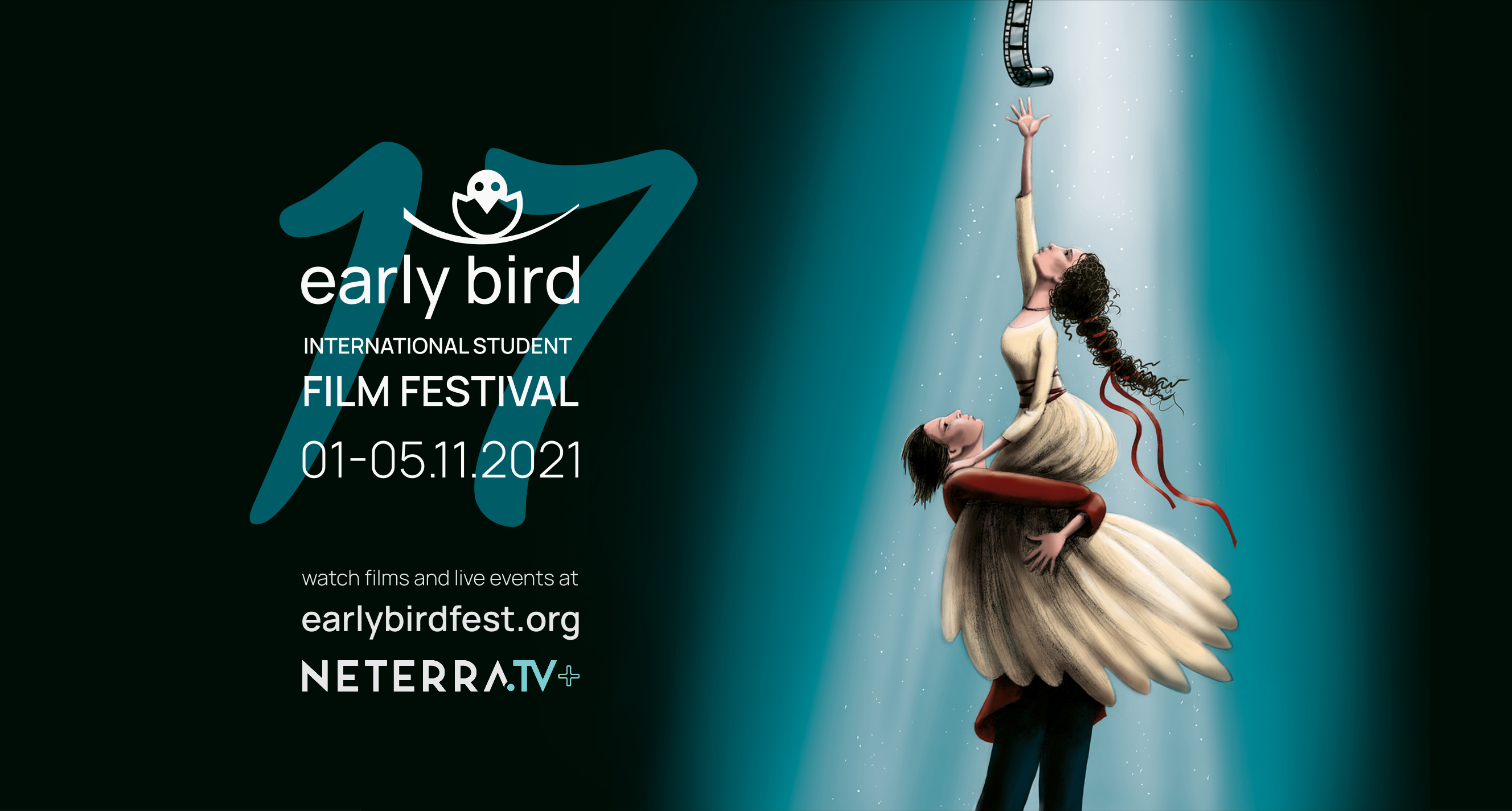 The Festival will be held online from 01 to 05 November 2021 on earlybirdfest.org and Neterra.TV+ - an online platform that offers access to a diverse selection of films and film festivals. 
The films from the Official selection will be available free for the time of the Festival. The directors of the selected films will receive a Zoom invitation to participate in the events. For everyone else a live broadcast will be available here and on our Facebook page & here.
Early Bird International Student Film Festival is the biggest Bulgarian forum dedicated to support the creation of student short films. For more than seventeen years the Festival is fully devoted to help young filmmakers to reach their audience. 
The Festival was created by the American Foundation for Bulgaria in 2005 as a continuation of the successful initiative of the Foundation to support university students film projects .The original festival concept was created by Mr. Alexey Hristov – Manager of AFB - branch Bulgaria and Prof. Ph.D. Stanislav Semerdjiev – rector of NATFA and Executive Director of CILECT (The International Association of Film and Television Schools). 
With its second edition Early Bird became international. To date, he has built a network of filmmakers from more than 90 countries and has more than 1,400 films in its selection.
You can watch the Early Bird 2021 movies onearlybirdfest.org and Neterra.TV+. The special activities during the Festival's programme will be as listed:
01.11 at 18:30 (UTC+2)
Opening Ceremony - meet the members of the jury Edoardo Sartori, Sava Dragunchev, Vessela Dancheva, Poli Angelova, Velislav Pavlov, the directors of the selected films and special guests
02.11 at 18:30 (UTC+2)
Workshop with lecturer in Film and TV Editing at SWU Ruslan Grudev - Teaser, trailer, EPK, web video content. They are not the same.
03.11 at 18:30 (UTC+2)
Masterclass in Challenging the Director – an Actor's Perspective with the lecturer in Acting and Speech at NATFA Sava Dragunchev
04.11 at 18:30 (UTC+2)
Directors Talk with Ahmed Yumer - OneStage: Hatching - podcast about young people in the arts
05.11 at 18:30 (UTC+2)
Award Ceremony - announcing the awards in 12 categories and celebrate the talent of the young filmmakers.
Early Bird 2021 Jury:
- Edoardo Sartori is the President of the Jury of this years' edition of the Festival. He is a Swiss aspiring Cinematic Artist with a thriving desire in filmmaking and visual storytelling. Recently he has gained his Bachelor in Computer Animation at Escape Studios, one of the best ranked schools for VFX & Animation in the UK. Here he directed his first short film called "Quarantine Chorus" which won many festivals around the world including the Early Bird Grand Award at Early Bird 2020 Special Quarantine Edition.
- Sava Dragunchev, Jr. holds a BA degree in Acting and a doctorate in Theatre Arts from The National Academy of Theatre and Film Arts, a BA in International Economics, an MA in International Relations and Security, an MA in Macroeconomics, and an MA in English Philology from The University of Sofia. He also teaches Acting and Speech at The National Academy of Theatre and Film Arts and at Sofia University's Department of Journalism and Mass Communication. Sava Dragunchev works as a translator from English, French, Spanish and Russian, and he is the author of numerous research articles on acting and teaching (incl. The Bulgarian Academy of Sciences, NATFA, etc.)
- Poli Angelova was born in Usogorsk, Russia. She graduated in Film and Television Directing at New Bulgarian University. In 2007 she founded the production company Screening Emotions, working mainly with young up-and-coming filmmakers. The chief goal of the company is to create opportunities for the development of new talents and to support original art house films by directors that stand out with their unique visions.  Her filmography as a producer already includes over 20 short films, 4 feature films, 2 documentaries.
- Vessela Dantcheva is animation director and producer. She graduates in Animation at Rotterdam Art Academy in 2002 and gains her animation experience in the Netherlands. Her first professional film is 'Anna Blume', then she is part of the creation of 'Father', 'Travelling Country', the poetry collection 'Mark & Verse', 'Hierarchy Glitch' and many others. In 2008 she co-founds Compote Collective and since then she is managing the production of diverse artistic animation films. Compote Collective is one of the leading animation production companies in Bulgaria with a record of 42 animated films.
- Velislav Pavlov is a Bulgarian born theater and film actor. He studied and graduated in acting at The Theater Dept of The New Bulgarian University in Sofia, Bulgaria. His first major role in film comes in 2011 as the lead character Alexander in 12 episode criminal TV drama for Bulgarian national Nova TV called Otplata (Payback). In 2017 he appeared in the critically acclaimed drama Omnipresent for which he received the award at the Golden Rose Film Festival for Best Leading Role. For the last decade and a half has more than 65 roles in international and Bulgarian film and TV productions. He also performs in theater.
Find out more at the official website of the Festival: https://earlybirdfest.org.