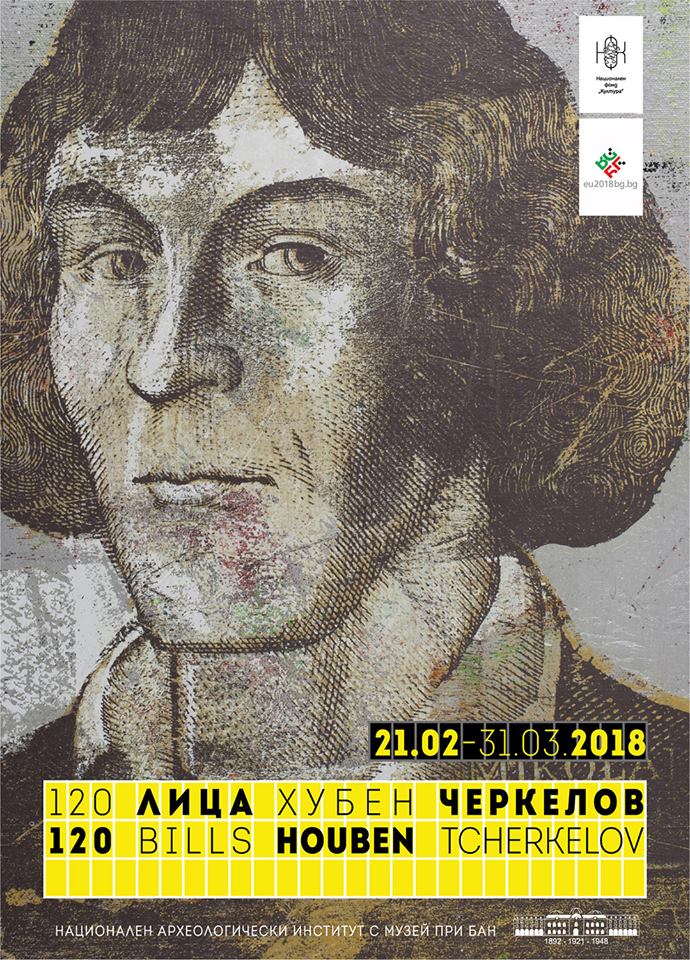 120 Faces by Houben Tcherkelov consists of 120 paintings in the same format, painted in an advanced modern technique, brought to perfection in the artist Tcherkelov's studio. They show the faces of Zahari Zograf, Constantin Brancusi, Ivan Vazov, Benjamin Franklin, Goethe, Galilei, Ivan Milev and many more real people and legendary figures connected to different cultures and historical narratives. The faces were chosen in no other way but in their portraits, which were decided best to be used on bills or coins in past and present banking systems. Now, in the first decade of the 21st century, Houben Tcherkelov takes those faces from the bills and brings them back onto the canvas, transforming them into unique portraits. He gives them a taste of his style and gives all 120 faces one and the same aesthetical feeling, which makes the work very uniform and diverse at the same time.
Alexander von Humboldt, Josip Broz Tito, John Addams, Cortes, Albert Einstein, Velazquez, Copernicus, Bellini… history heroes, artists, politicians, travelers, revolutionaries or pacifists, all those people were once an object of the depicting and designer decisions of the money machine, and now their faces go through a graphic representation once again. We meet a Bulgarian artist carrying many traditions overseas such as Byzantine iconography, impasto work, mosaic portraits and multi-layer painting, palimpsests gathered for centuries in churches and onto parchments, and traditions specifically Bulgarian painting and iconography.
Tcherkelov uses gold or silver base and layering contours in his acrylic painting which makes the dialogue between extremely different spheres of human activities possible. Karl Marx, Christopher Columbus, Niko Pirosmani, Paisiy Hilendarski, Homer, Simon Bolivar, Manuel de Falla… these names and faces create a complex trajectory, which makes the modern viewer think about all kinds of topics and historical problems, as well as concepts for the future. Most importantly, the artist allows us to feel the treasure of the unique and remarkable things, which should remain even in the most standardized and circulating industry. The mass production of the modern companies and the inflation of currencies and values shouldn't rob a one of a kind fortune that belongs only to the human kind – the ideas and spirit of the man.
Openning on the 21 February 2018 at 18:30 in the Archeological museum (Saborna str., 2).