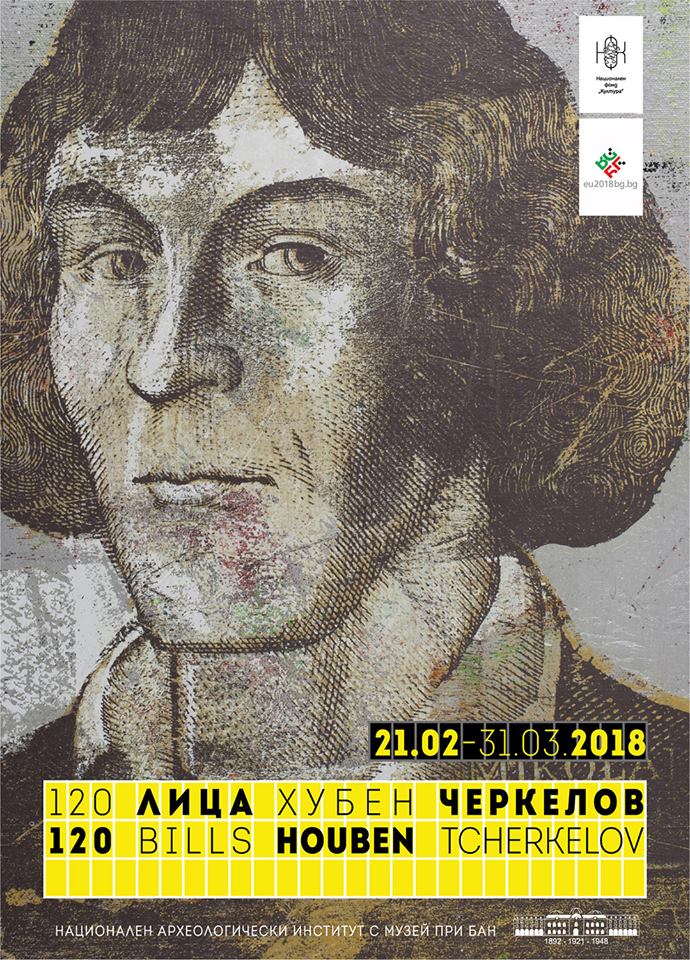 This project contains of 120 single-format works, performed in a complex modern technique, made to perfection in the atelier of the artist Tcherkelov. The images are of Zahari Zograf, Konstantin Brankuzi, Ivan Vazov, Benjamin Franklin, Goethe, Galileo, Ivan Milev and dozens of other real personalities and legendary figures of different cultures and historical narratives. He selected their portraits, which in various eras old and newer banking systems have defined as suitable for use on currency. And now, in the first decade of the XXI century, from the overcirculation images on bills, Huben Tcherkelov brings these faces back onto the canvas of the artistic cloth and sets them in unique portraits. He immers them in his style and obeys all 120 images to an aesthetic line, which makes the work impressive homogeneous and multi-vowel at the same time.
Alexander von Humboldt, Josip Broz Tito, John Adams, Cortes, Albert Einstein, Velázquez, Copernicus, Bellini... Heroes of history, creators, politicians, travelers, militant revolutionaries or pacifists, all these characters have become once a subject of the pictorial and design decision of the money machine, and now their faces for the second time are experiencing a graphical interpretation. We meet a Bulgarian author, who carries through the ocean traditions related to Byzantine iconography, the work in impasto, with the art of the mosaic portrait and the multi-layered painting, with the palimpsests, accumulated for centuries on the walls of the temples, on parchments, as well as traditions in particular of Bulgarian painting and iconography.
Tcherkelov's acrylic paintings with a powerful use of gold and silver base and a layered contour relate cultures, make possible the dialogue between alien to each other's spheres of human activity. Karl Marx, Christopher Columbus, Nico Pirosmani, Paisii Hilendarski, Homer, Simon Bolivar, Manuel de Faya... These names and faces draw a complex trajectory, which causes the contemporary viewer to think on many topics and problems of history, the concepts of the future. And most of all, the artist allows us to feel the precious of the unique, the unrepeatable, which should remain even in the most standardized, circulating industry. The confection of modern productions and inflation of currencies, values, bills, should not exhaust the unique and inherent wealth of human nature – that of ideas and spirit.
The exhibition of Houben Tcherkelov is presented by "Project A" Association and is realized with the financial support of the "Cultural program for the Bulgarian presidency of the Council of the European Union 2018" of the National Fund "Culture" in partnership with the Sofia Municipality and with the support of Sofia Airport. It is part of the national presentation of the project 120 Bills with next visit in the town of Samokov.
The opening will be on February 21, 2018, Wednesday, from 18:30 a.m., at the Archaeological Museum on 2 Saborna str.